A multi-functional sport and community complex, establishing a recreation and sports hub for the growing community
The centre replaces an aging facility, tripling the current building footprint with a new two storey building that houses sporting facilities for football, rugby, tennis, cricket, basketball, netball, volleyball and badminton.
Including clubrooms and changerooms for oval and court sports, multi-function spaces and two indoor multi-purpose courts, the development also includes two outdoor tennis courts, three retractable cricket nets, facilities for the local dog club and a new carpark. The integration of a community centre replaces the previous Mitchell Park Neighbourhood Centre, activating the site throughout the daytime to deliver a wide range of community programs.
Drawing inspiration from the sites history as an orchard, the concept explores the ideas of grafting and lifecycle of stone fruit, translated into the built form through curved lines, colour graded screens and a strong response to the surrounding context.

Early stages of the project involved a high-level of stakeholder consultation to consider the needs of all existing and potential user groups, ensuring the new facility serves the community's broad recreation and sporting needs. The inclusive facility caters to the vast range of cultural, economic and other demographics of the greater community. A high focus on accessibility has been incorporated to accommodate both able and non-able-bodied patrons of all ages.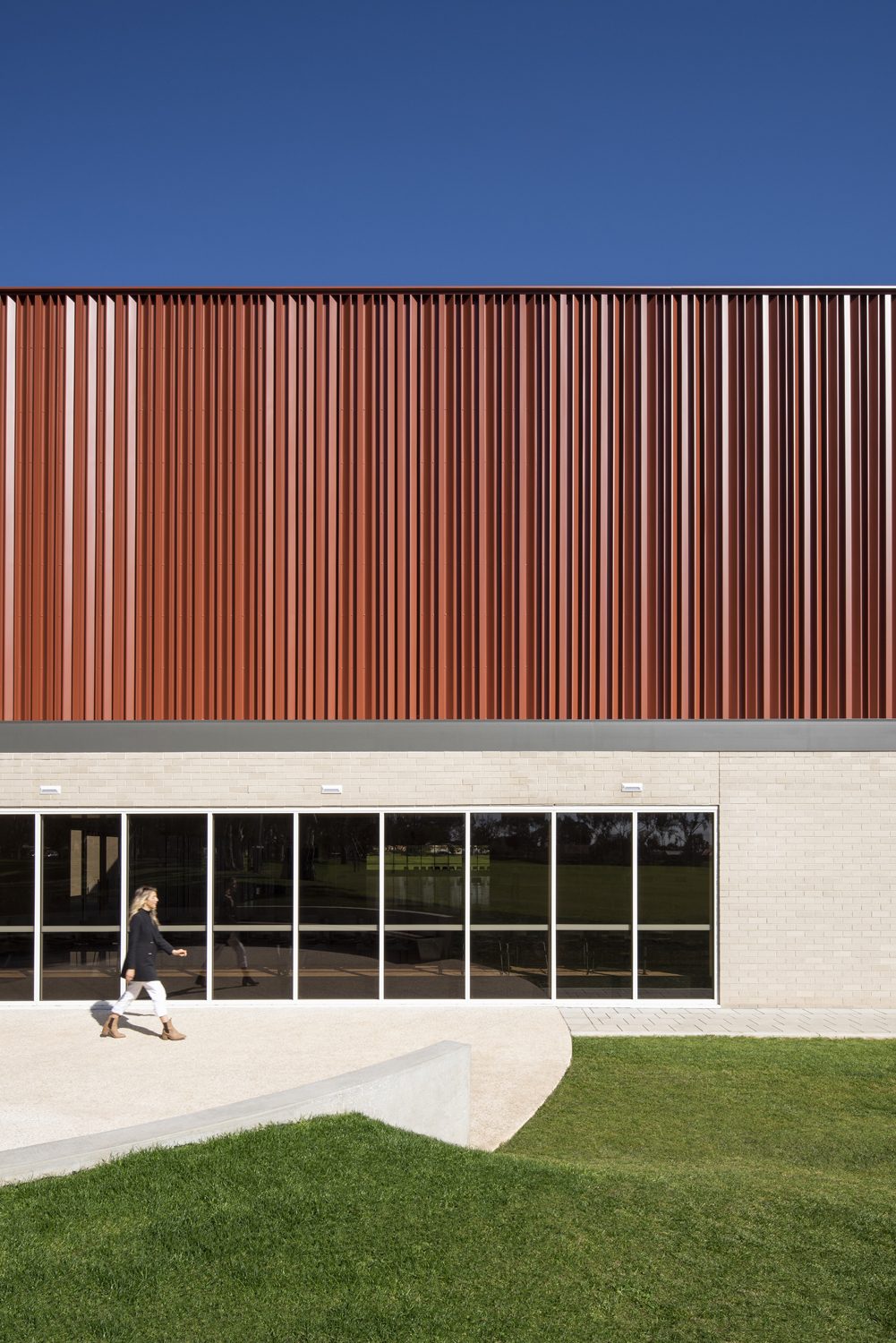 The centre is the first project to utilise the NINELINE Studio profile — 1 of 4 new profiles available from the highly anticipated release of the NINELINE SERIES
As the catalyst project to trigger the collaboration with Revolution Roofing, the NINELINE SERIES provides Architects with alternative wall cladding solutions. The innovative profiles are particularly suitable for large-scale facades, such as on sport and recreation projects, where a traditional single, cost-effective prefinished material is often used.
Now available to specify on projects nationally, Mitchell Park showcases the Studio profile's unique ability to offer dynamic shadowing and visual interest at a distance.